1

min read
Two new Ben & Jerry ice cream flavours are about to make their debut in the best way – free scoops! That's right, the new Chocolate Chip Cookie Dough Core and Wake & "No Bake" Cookie Dough Core flavours are available FREE at the Plain Vanilla Bakery.
Image credits: Insider
About
Cookie dough and ice cream are two of our all-time favourite snacks. Here at the Plain Vanilla Bakery, it gets even better in collaboration with Ben & Jerry's! With a thick core of cookie dough, these new flavours are sure to leave you wanting another scoop.
You may think it's over once you've finished your delicious ice-cream but wait – there's more. Take a spin at the Bowl of Fortune and stand a chance to walk away with some exclusive Ben & Jerry's moo-chandise! Or, if you're lucky enough, you might also win a voucher for two very special homemade limited edition treats made by Plain Vanilla Bakery. And of course, these are also cookie dough related!
Dough Rae Me: Chocolate Chip cookie cupcakes with a dark chocolate fudge core topped with Chocolate Chip Cookie Dough frosting and a homemade Chocolate Chip Cookie
Fudgey Doughey Browney: Dark chocolate fudge brownie with a layer of chocolate chip cookie dough encased in dark chocolate coating and sprinkled with chocolate chip cookie crumbs
But no worries, you can always purchase these treats for $5.00 (Dough Rae Me) and $8.00 (Fudgey Doughey Browney) if you wish to try them anyway. Definitely, a must try for cookie dough lovers!
Oh, and don't forget, while you're there, snap a picture with one of your treats in front of the many fun photo backdrops and hashtag #BenandJerrySG and #WeirDoughTakeover!
Hungry? Here are the TOP 10 Singapore Hawker Food – CHEAP and DELICIOUS!
Details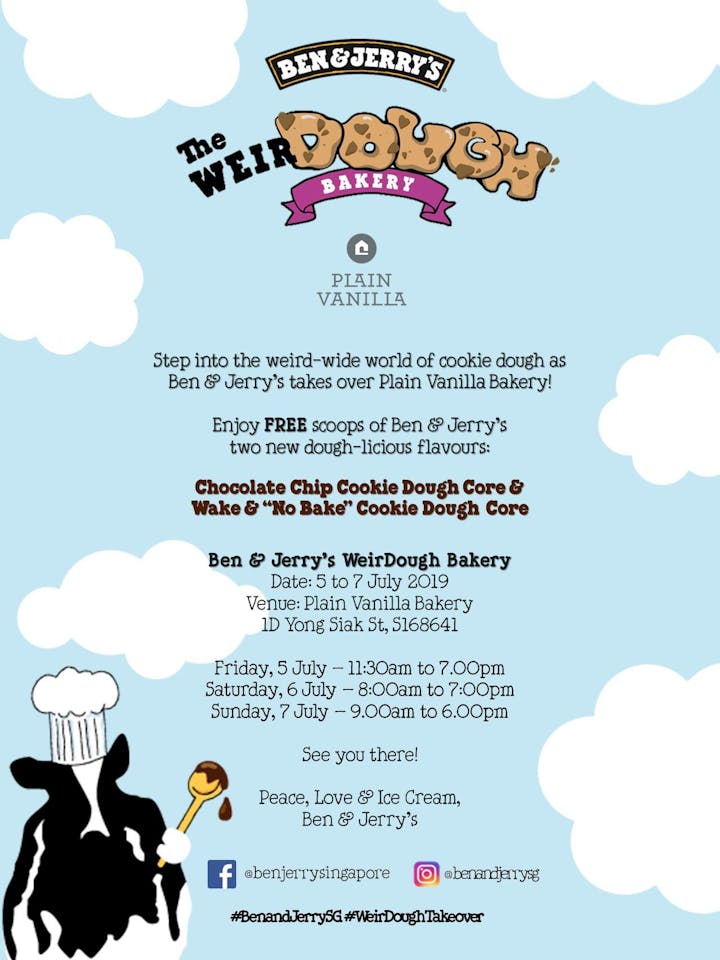 Image credits: City Nomads
Date:
5 July to 7 July 2019
Venue:
Plain Vanilla Bakery, 1D Yong Siak St, Singapore 168641
Nearest MRT Station: Tiong Bahru
Time:
5 July (Friday): 11.30am to 7.00pm
6 July (Saturday): 8.00am to 7.00pm
7 July (Sunday): 9.00am to 6.00pm
Also, check out the TOP 5 BEST Countries to Visit if you love FOOD!