6

min read
Bangkok is one of our favourite travel destinations for many reasons such as delicious food and endless places to shop. But while we're enjoying ourselves, we always have to be mindful of how much we're spending. Which is why we've come up with a travel guide to show you the best secrets to get the ultimate Bangkok experience for the cheapest prices! Read on to find out!
Singapore Airlines Best Price Package to Bangkok/Hong Kong, contact WeekendGoWhere Friendly Customer Service 
Whats-app 93900052
 OR call 
+65 6358 4231
(9am to 6pm). Quote "SingaporeGo" as your source.

Flight
First and foremost, let's talk about your flight. It takes approximately 2.5 hours to fly from Singapore to Bangkok, which is relatively short. This means that taking a budget airline won't cause you that much discomfort. Some airlines that you can consider include Scoot, Thai AirAsia and Jetstar.
Websites like Skyscanner, Expedia or Kayak may be able to find a wide range of flights for you, but you'll still be missing out. It's a good place to start, but some airlines, especially the smaller ones, don't have their prices listed so you might have to go to their official website to get their cheapest prices.
According to HuffPost, the best day of the week to fly in and out of Bangkok is on a Tuesday. This saves you an average of $157! You can also consider arriving or departing on Monday and Wednesday, but take note that leaving on Saturday may cause you to lose about $109 more.
Although it may be a little difficult to consider this due to the timing of the school holidays in Singapore, the best months to fly to Bangkok for the cheapest prices are late April, early May and late September. Things get a little more pricey during high tourist seasons from November to March.
You might also want to read up on the BEST Airplane Tips & Tricks you MUST KNOW!
Hotel
Now that you've gotten your flight settled, let's move on to accommodation. What are you really looking for in a hotel when you're on holiday? Especially if you're on a budget, which you probably are if you're reading this article, a fancy hotel is the last thing you should be spending your money on in Bangkok. After all, you won't even be in your hotel room most of the time.
Cheap hotels that are the best value for money can be found on Trivago and Agoda. Also, keep in mind the location of your hotel when you book it. Staying near a Bangkok Mass Transit System (BTS) station or a regular subway (MRT) station can help you save a lot of money transport-wise, which we will talk more about later.
Alternatively, you can opt to stay in a hostel instead. These are significantly cheaper than most hotels if you don't mind sharing kitchens and bathrooms with others.
AirBNBs are also affordable options. Though an AirBNB in popular areas such as Pratunam or Siam could cost you the same amount as a regular hotel, this can be avoided if you book early and take advantage of special prices. The one you see in the picture above is located close to Siam and could be yours at a price of only SGD47 per night!
So you've landed at the airport. Now you have to think about how you're going to get to your hotel. And from there, how you're going to get around the city in general. Making smart choices when it comes to taking public transport is another way in which you can save money.
First, let's talk about travelling from the airport to your hotel. The best option would be to take the Airport Rail Line (ARL), which is a train from Suvarnabhumi International Airport to either Phayathai Station (MRT) or Petchaburi Station (BTS). This would take you directly into the city from the airport. Fares start from SGD0.60 and if you choose to take the ARL for all six stops, it'll be a grand total of SGD1.90, which is not bad at all. It's even faster than driving due to the city's traffic!
Once you've arrived at your hotel and unpacked, your next step might be to get lunch or start shopping already. As mentioned earlier, if you're staying next to a BTS or MRT station, your life will be a lot easier. You can simply hop on board and the trains will take you nearly anywhere in the city. The best part is, they're pretty cheap too, with fares starting at SGD0.60 for both.
But if you somehow find yourself in a situation where you can't take the train, we don't recommend taking a bus as it can get very confusing, especially if you've never been to Bangkok before. Call a Grab instead of taking a cab, it's slightly cheaper.
Food
Next up, food. Even if you're one of those people who visit Bangkok just for the food, there are still ways you can make sure you don't splurge too much. Everything may look and sound delicious at first, but remember that your goal here is to eat food that has the best value for money.
So where can we find said "worthy" food? It's quite simple – local food. Of course, everything is technically local food as you are in Thailand after all. But to get the true experience while saving bucks, you'll have to eat exactly like how we do in Singapore.
That's right, Bangkok has many food courts too! Just like in Singapore, they can be found indoors in shopping malls, which is where you'd want to go to avoid the heat. I'm sure we're all familiar with the benefits of eating at our food courts. You'll get to pick from a wide variety of delicious food at very affordable prices, and it's no different in Bangkok's food courts.
Another tip is to order food "Thai Style". Basically, you order three or four dishes for everyone to share. This usually saves a lot of money as it minimises food wastage and also allows everyone to try more than one dish at once.
Read more about Bangkok's food here:
TOP 5 Cafes to visit in Bangkok
Eating INSECTS in Bangkok. Grasshoppers, Scorpions & Spiders! What more do you want?
BEST Eat-All-You-Can Buffets In Bangkok Under S$15
Must-Buy FOOD at Bangkok Floating Market & how to go Thailand Cheap with Singapore Airlines!
What to Do
Night Markets
This is another one of the reasons why people visit Bangkok. Even though they're famous for their shopping, there's much more to Bangkok's night markets. If you want to truly immerse yourself in Thai culture, the night markets are where you'll want to be.
You'll often find cheap clothes, shoes and food at these night markets. But more importantly, even if you really don't want to shop, you can always talk to the local vendors and learn more about some of the uniquely Thai items that they are selling.
For more details, check out the TOP 5 Night Markets You MUST Visit In Bangkok!
Massages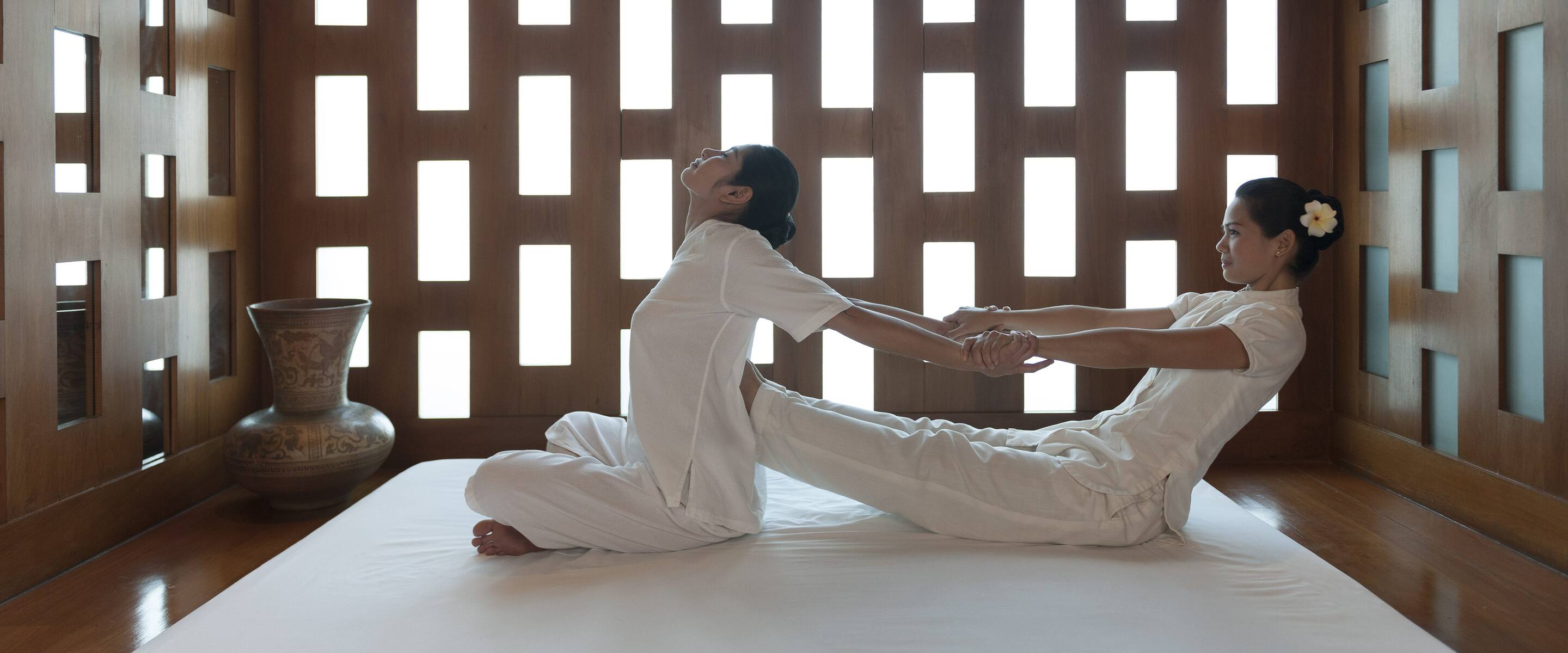 The Thai massage is perhaps one of the country's most famous exports. And while you're here in Bangkok, it wouldn't be a complete visit if you didn't get to experience the authentic massage by yourself. Plus, a spa is the best place to relax and recharge your batteries after a long day.
Usually, a simple way to tell if a spa is the right one for you is to take a look at how many customers it has. Of course, this isn't the most accurate way to go about doing it, but if you're a first-time tourist, it'll be your best bet. Most spas are ridiculously cheap too!
Check out the TOP 5 Bangkok Spas as LOW as $8 & how to go Thailand Cheap with Singapore Airlines!
Temples
Wat Arun
Surprisingly, there's more to Bangkok but shopping, food and massages! Every place has its own culture, and Bangkok, being the capital of Thailand, has a very intriguing one. And the best place to explore this is at Bangkok's temples.
Wat Saket
There are many different temples to visit and they're all worth it, but our personal favourites are Wat Arun and Wat Saket. Wat Arun, also known as the Temple of the Dawn, consists of five towers and is filled with colourful ceramic tiles and porcelain. If you want to get a magnificent view of Bangkok from above, Wat Saket offers exactly just that from the top of an artificial hill. The best part is, admission is free!
Read also: Why Singaporeans LOVE Bangkok!
[Bangkok] 4D3N Free & Easy Package
Package Includes
Singapore Airlines Two-Way International Direct Flight (Tax + 30 kg Check-In Baggage Incl.)
Three Night Accommodation at P2 Boutique hotel, Pratunam
Two-Way Airport Transfer 
* Package Excludes – Personal Insurance, Visa Fee & All expense of purely personal nature. 
Travel Period
Booking Period:10 – 30 October 2019
Travel Period: 01 January 2020 – 31 March 2020
Advance Purchase: 3 days
Blackout Date: 22-29 Jan 2020
*Price subject to change depends on seats availability
* Minimum Stay 3 Nights.
For more details on the [Bangkok] 4D3N Free & Easy Package, click here.
Singapore Airlines Best Price Package to Bangkok/Hong Kong, contact WeekendGoWhere Friendly Customer Service 
Whats-app 93900052
 OR call 
+65 6358 4231
(9am to 6pm). Quote "SingaporeGo" as your source.